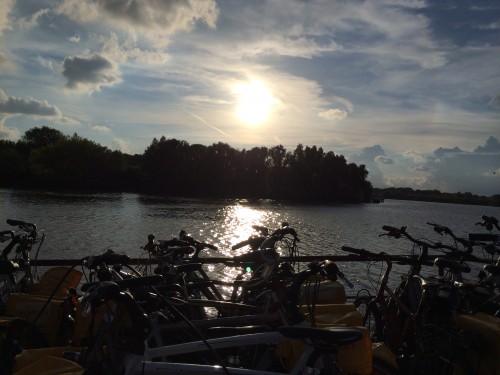 So I'm sure you've all heard me talk about my passion for cycling. No? No you haven't. Though I do tune in for much of the Tour de France, most of my athletics are of the watching variety and I haven't been on a bike for greater than a decade. But my latest vacation planning coincided with members of my family not being able to take a bike/barge trip with some friends of theirs and they generously offered me their spot.
The trip was organized by a 75th birthday celebrant and he and his wife were on a greater cycling endeavor benefiting Tradart Foundation. They chartered the trip for our group of about 25 through Cycletours and the route was seven days of cycling from Bruges to Amsterdam with daily cycles averaging out to around 43k a day. The barge would house us for the duration of the trip meeting us at each finish point and offering a place to decamp for the week, as well as enjoy breakfast and dinner, plus fixin's for packing a lunch to eat on the road.
Bruges to Amsterdam here I come! Wait, bike trip? Now while one could, and some did, take the trip via barge sans bike, it was clearly set up as a bike trip and I wanted to see if I could embrace experiencing the sites on two wheels. After much training (a couple weeks at the gym and one outdoor bike ride of about 22 minutes) I was planning to do the first short day and then perhaps not cycle again.
Fortunately for me the trip was not only mostly flat but much of it was on dedicated bike paths (or other less trafficked options) with multiple breaks for regrouping, resting, snacking, and scenery. And most importantly the ebike was my savior. Ebike you say? Much as I wanted it to be a scooter you had to pedal the whole time (no pedal no movement) but each pedal was made a touch easier and more productive than without. Cheating some called it, but those of us who took the option were thrilled that it allowed us to enjoy what otherwise we wouldn't have experienced.
I accomplished many things on my bike. Biking on cobblestones. Biking in the rain. Biking on cobblestones in the rain. From pavement to bricks to dirt to gravel to grass, cities, traffic, train tracks, roundabouts, bike roundabouts, 180 degree turns, drafting (not a good idea if you're not tour level), stair ramps (not great with the extra heavy ebike)… to name a few. I am not yet ready to ride with no hands and to do things like texting on my bike, ah kids today, but I was overall feeling more comfortable with my bike skills.
By the end of the trip my thighs were sore, my left knee was achy, and my tooshie was done. Was the seat comfortable? Probably, and no, not at all. I was told that the third day would be the worst but the fourth it would get better and not sure better was good enough. Padded shorts are a necessity but can't solve the issue that a person is not meant to sit on a bike seat for hours and days on end.
And while I don't know that I'll do another one there're a few logistics to consider, I've talked to a friend who does other cycling tours and they're all obviously set up very differently. We all rode together in a group which could get challenging for pace, communication, and sheer number of riders. But sticking with our guide and having a daily sweeper assigned ensured none of us got lost along the way (which totally would have happened even with maps). Plus a group of cyclists with our bright yellow panniers was sort of a warning sign to others which in a couple of traffic situations came in handy.
There were a couple of points where some folks were encouraged to go and ride ahead (I chose to stretch my legs with the quick team) and one day where past a point there were two route options to get back (I chose the short route where you could take a ferry to tour a castle). No SAG wagon meant we brought our gear in our panniers and once committed were committed to the whole ride (thankfully no serious injuries). And being in a chartered group of friends and family meant it wasn't all folks who would normally sign up for a cycling tour so we had a wide range of cyclist skills and interests. For me, our logistics and the terrain made it a perfect first tour.
All in all, I was glad I traded a little discomfort for what was a wonderful new experience. You see the variety of cities and landscapes in a way you never would if you flew or trained straight from Bruges to Amsterdam, and it was beautiful. It was also a lovely group of people who all encouraged and entertained one another. And as each day was completed it was a joy to be greeted by our barge and fellow travelers moving from happy hour to dinner to share our tales, enjoy what turned out to be delicious food, and hear about the next day's adventure. Our tour guide even invited us on his unofficial but informative post meal evening constitutional through town each evening.
For more adventures tune back in for my post on Bruges, Amsterdam, and Copenhagen which I'll get around to as soon as I finish unpacking. Update: Finally unpacked, I guess, so check out the post here.