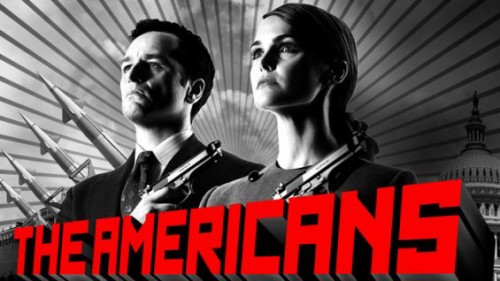 The tv seasons don't really lend themselves to an end of the year roundup. I'm somehow even less able than with films to remember how I am really feeling about a show exacerbated by the fact that I can't always distinguish one season from the next. I've also waited so long for this list I might be judging The Americans and Justified off of this season instead of the last but they'd still be in the running. At the end of the day I could reorder these 100 different ways but here's where I'm at this moment:
The Americans (FX) – What a couple of bad ass Russian spies, I'm worried about their balancing their layers of deception with all of those around them, including their family, at least I'm always pretty sure they will somehow make it out of the trickiest of situations.
Orphan Black (BBCA) – The lead in this series playing a myriad of characters was enough to sell it but they've kept the supporting characters and plot on par.
The Good Wife (CBS) – I'm not sure where they've been going this year but am happy with the continued reinvention and the way that they balance these rich characters and story lines that keep 'good' a questionable characterization.
Hannibal (NBC) – The lead actors in this show really make the creepy factor sing, with visual and story layers around them to match, can't wait to see what the next season will bring.
Justified (FX) – Oh Raylan I'll hate to see you go after this season but I'm glad to see you pulled in for one last go with these characters who may at sometimes be dumb but they're always complex.
Ink Master (Spike) – Still my favorite reality show, I love the mix of the different skills and artistry it takes to be good at all the aspects of tattooing and of course just a dash of people drama.
Fargo (FX) – What a random show this was capturing the spirit if not the story of the original film, quirky and dark with a cast of well-drawn characters, this is one of those shows I'm just glad gets made, and I'm curious to see what the next will bring.
You're the Worst (Fx) – This was my favorite new comedy of last year, centered on a couple of dysfunctional people, their dysfunctional attempt at a relationship, and their dysfunctional friends, funny.
Parenthood (NBC) – I didn't always love the paths that this family was sent on but the departure of the Bravermans will leave a hole in my schedule if not my heart.
Orange is the New Black (Net) – This show continues to be a great go to binge watch if not because of the lead's story then because of the myriad of surrounding stories to tell.
Honorable Mention: The Middle / SHIELD (ABC), The Walking Dead (AMC), In the Flesh (BBCA), The Big Bang Theory / Elementary /  The Mentalist / Mom (CBS), The 100 / Hart of Dixie (CW), Brooklyn 99 / The Mindy Project (Fox), Louie / Sons of Anarchy (Fx), Sleepy Hollow / Gotham (Fox), The Blacklist / Parks and Recreation (NBC), House of Cards (Net), The Honorable Woman (Sund), Lost Girl (Syfy), Cougar Town (TBS)

procrastinator posted in