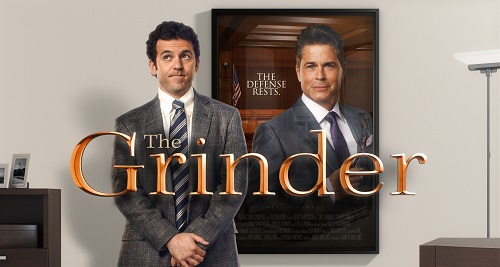 Well there's not a ton that seems to be sticking out as a new breakout hit but there are a few shows that look like they could end up being added to the repertoire. Other than those already aired I don't see these ahead of time so most of my intrigue is developed by cast, creators, and critics' tips as to what looks good. Like each season the pilot is often only a nominal indicator of what's to come but when one neither can nor wants to watch a full season of everything cuts come quick.
The Bastard Executioner (Fx, 9/15) – I still haven't cracked this one open but with my appreciation for most of Sons of Anarchy it will definitely get a watch.
Crazy Ex-Girlfriend (CW, 10/12) – A musical comedy about a stalker seems like a tough sell but folks are saying it works.
Grandfathered (Fox, 9/29) – John Stamos is back and willing to give him a chance with his new found family.
The Grinder (Fox, 9/29) – Rob Lowe and Fred Savage's latest step into comedy is supposed to be a great fit and format.
Heroes Reborn (NBC, 9/24) – I enjoyed the start of this original series, will the return in limited format recapture the magic or the demise.
The Player (NBC, 9/24) – The first episode was fun and promises some good campy event of the week with a lot of over the top action, I don't see real quality but we'll see if it lives up to the promise.
Quantico (ABC, 9/27) – Dubbed as sort of a Greys Academy we've got a fresh batch of recruits and some sexy romance and political intrigue?
Supergirl (CBS, 10/26) – I'm due for another good superhero show and this is getting enough good buzz.
And the others to dabble or drop:
Angel from Hell (CBS, 11/5) – I'll give the new Jane Lynch vehicle a shot but the commentary indicates Jane is the only good thing about it.
Best Time Ever (NBC, 9/15) – I love NPH as much as anyone but the format of the show doesn't quite shine.
Blindspot (NBC, 9/21) – The first episode introduced the stupid premise with talent without much chemistry but another episode could be more promising.
Blood & Oil (ABC, 9/27) – The latest entrant to the evening soap, though seems as if Don Johnson is the only high point.
Chicago Med (NBC, 11/17) – If you like Chicago Fire or Chicago PD…
Code Black (CBS, 9/30) – This looks like it will hit all the standard medical drama but perhaps not much more.
Dr Ken (ABC, 10/2) – Ken Jeong's latest is getting pretty bad buzz though rumor has it there is improvement post pilot.
Fear the Walking Dead (AMC, 8/23) – I've only caught the first and the look at a life before dragged but I'll wait to see a little more of the world.
Life in Pieces (CBS, 9/21) – The premiere didn't win me over but the cast has enough potential to give it another shot.
Limitless (CBS, 9/22) – Another case of not being enamored enough by the leads or the premise, I'm tempted to give it one more shot to see what the weekly feels like after the pilot of introductions.
Minority Report (Fox, 9/21) – The future of crimes doesn't have any future in my book.
The Muppets (ABC, 9/22) – I enjoy a muppet but am yet to be sure of the new tone and humor of the show week to week.
Rosewood (Fox, 9/23) – The 'charming' lead just came across as smarmy, though there's room for him to be likable, I'm not sure the private pathologist in Miami premise is worth it.
Scream Queens (Fox, 9/22) – I didn't find enough humor, suspense, or originality in this latest killer endeavor.
Truth Be Told (NBC, 10/16) – I can't imagine Mark-Paul Gosselaar and Vanessa Lachey having frank conversations will be all that amusing but who knows.
Wicked City (ABC, 10/27) – Ed Westwick gets extra wicked as serial killer, perhaps.
And then of course there's cable, and mid-season, and… What are you most excited about?

Shows mostly listed in alphabetical order and premiere dates subject to change so stay tuned to 'next week's for more info. 

procrastinator posted in