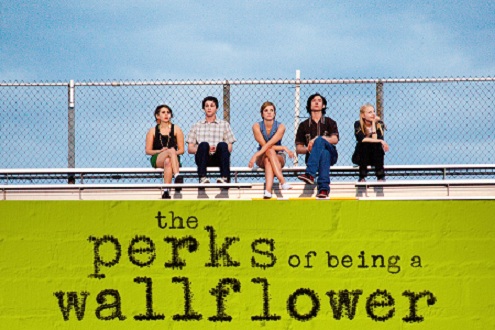 Looking back through the movies of the year it was difficult, as always, to cull ten of these. And then even more difficult trying to put them in order. Am I just getting too old to remember what I watched and how much I enjoyed it throughout the year? Perhaps if I start grading along the way it'll ease my subjective recollection. Oh and of course I haven't seen everything so check out what's bold in the Critic's Picks if you want to know what pool I was drawing from.
Standard caveats apply, it was a pretty indie year for me and here's where I'm at, I think:
The Perks of Being a Wallflower – I'm a sucker for a misfit teen flick and this coming of age piece struck all the right notes, the awkward and the tragic are mixed with enough humor and truly touching moments, along with great cultural references to make it a real perk.
Silver Linings Playbook – I thought Bradley Cooper, and the entire cast, did a beautiful job of conveying the edge of true crazy and the precarious balance that can push a person either way, while the wrap-up may have been a bit on the tidy side after a not so silver lined voyage I enjoyed it.
The Hunger Games – So no I never read the books but I thought the flick did a great job of portraying a lot of content and a lot of action in a dystopian post-apocalyptic flick, while of course making me like that bow shooting, moral code keeping, Jennifer Lawrence all the more.
Hit & Run – I had doubts about Kristen Bell's dude Dax's action comedy but quite enjoyed the chasing and fleeing of the recently discovered Witness Protectee trying to get his best gal to her nonviolent conflict resolution job interview, with a wonderful supporting cast.
Safety Not Guaranteed – Low expectations are sometimes the best experiences, the quirky cast of Aubrey Plaza, Mark Duplass, and Jake Johnson are well suited for this offbeat journalist covers a story about a dude who is gonna time travel, what happens when our undercover lady reporter gets too involved?
Moonrise Kingdom – A very Wes Anderson film with great casting and an incredible visual style as we follow the romance of youngsters across a New England island, though it may not have been the perfect arc it hit all the right notes to make me appreciate the kingdom.
Lincoln – That Daniel Day-Lewis does an amazing job portraying the man and the efforts around the passage of the Thirteenth Amendment, which is a good thing because it's an awful lot of him telling Lincoln tales.
The Dark Knight Rises – I maybe am not giving this movie credit based solely on this chapter, skewed by my love of this reinvention and of Christian Bale and my sadness to see it end, maybe a little too comparable to the initial take by the end I was still hoping to see what came next.
Argo – Tense throughout, in almost a comical way, they did a nice job capturing the look and feel and emotion of the hidden non hostages from the US Embassy in Tehran and our hero Affleck who acted and directed their ordeal.
Beasts of the Southern Wild – One is torn between wanting to get our young protagonist out of her isolated Louisiana bayou community and keeping it perfectly preserved, the mix of fantasy adds a nice touch to the journey of the storm and flooding as well as the family and community.
What did you love last year? Hate?

procrastinator posted in