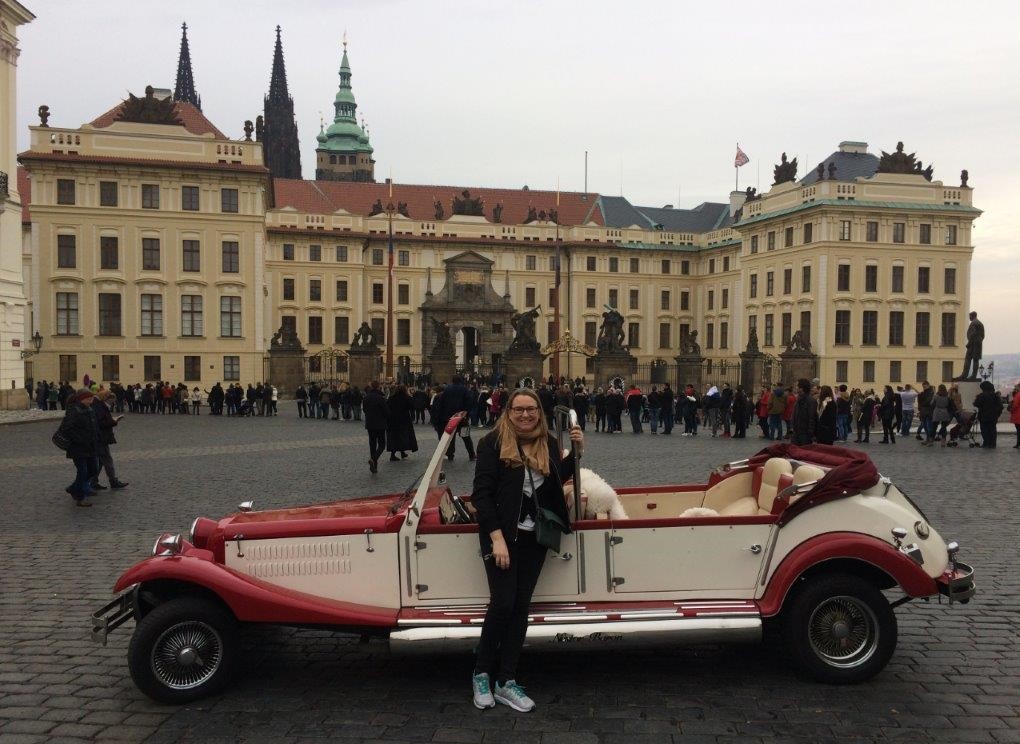 It all started in Prague, with lots of jetlag and no clear mass transit opting for the hotel pickup to the lovely 987 Prague Hotel was a good call; the hotel's in a pretty good locale with all walkable though a bit on the outer side of the old city. The Wenceslas Square shopping area was a good pass through to get to the more traditional old town. First stop the Black Madonna, one of the cubist style buildings housing both the cubist museum and the Grand Cafe Orient for a nice coffee. Then further to Tyn Church in the main square where there are some fun old timey car ride tours to get a look at spots near and far including the castle (photo above), the Rasin Building aka Fred and Ginger, the Lenin Wall, and a view of the glass blocked National Theater building, Nova Scena. Heading back for a more detailed look with a stroll across Charles Bridge to funicular number one of the trip up to the Eiffel tower's little sister the Petrin Tower; some pretty gardens and up top a nice view. Walking the Old Jewish Cemetery is a poignant visit seeing the list of Holocast victims in the Pinkas Synagogue followed by a walk of the small span fitting the hundred thousand graves is beautiful nonetheless. A stop at a recommended hot spot for Hot Chocolate at Hotel Neruda (I can only assume it's good if the delicious Soy Latte and croissant dipped into a pool of chocolate were any indication), up to the changing of the guard at Prague Castle at noon followed by a bit of a tour and of course an ice cold beer to drink in the cold, but with that view who could resist sitting outside. And they do love their beer, a visit to the Beer Museum (the pub not the museum) to continue to explore the love of pilsners with a flight of samples, not to stick to all things beer there's also the Champagneria and La Bodeguita del Medio for a quick mojito. And a couple amazing dinners at Kampa Park for a fancy, beautiful, and delicious seafood meal and a more traditional Italian dinner at La Finestra, also stumbling upon Vinograf Wine Bar near the hotel for a perfect merrying of pasta and a little vino.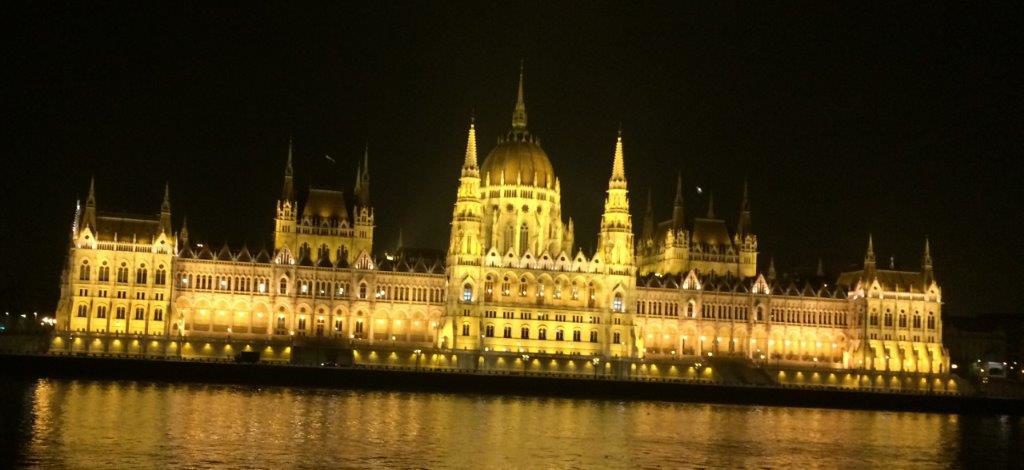 Then hopping on a train and heading onto Budapest which was Airbnb action, a great location and had the weather been better we would have quite enjoyed our rooftop deck. We were right by the Central Market Hall for a nice look at some of the local fare before journeying out for the sites. The Castle District is worth a visit and not just for my second funicular of the trip. The Hungarian National Gallery was pretty impressive while the Ludwig Museum of Contemporary Art was not. One can head across the Chain Bridge and check out the fabulous looking Parliament (photo above). Food and drink were had at some hotspots like The Four Seasons which has fancy fare but also amazing architecture, Mai Mano Cafe where the arty hipsters are reported to be, Trattoria Toscana for some delicious Italian, traditional fare at Hung(a)ry, and Csendes one of the ruin pubs for a complete experience. And no trip complete without a trip to the traditional baths at Veli Bej Baths we managed our way through the protocols to great relaxation (basically you should bring anything you need including towels).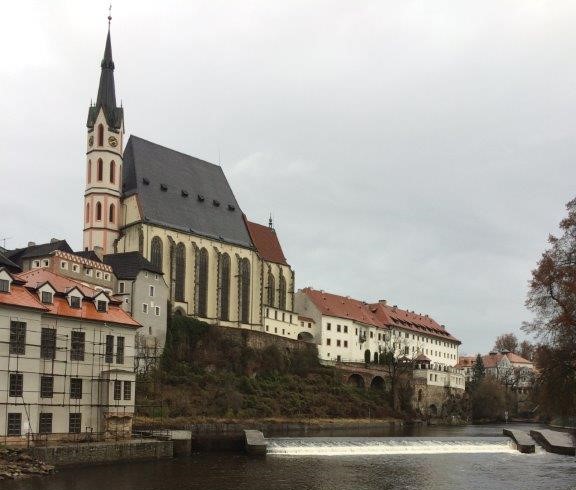 And onto the cruise up the Danube on the Viking riverboat! So it's basically set up like a floating hotel (rooms, restaurant, bar…) that mostly travels overnight to give you the most time in each port city each day. And of course meals are included as is Julie McCoy cruise director to let you know every day what you're going to see and coordinate your included tour, as well as some options. We arrived for our first outing (we skipped the organized Budapest trip) in Bratislava, Slovakia with a bus tour including the Castle followed by a walking tour of downtown. Our freetime was capped off by our special outing for drinks and dinner at the UFO Restaurant atop the "new" bridge – it only sways a little in the wind! (photo above). Then three separate days in Austria. Vienna, which after a morning of walking tour and history was followed by a Viennese coffee at Cafe Hawelka and an afternoon of good museums both Belvedere and Leopold. November is too early for the Christmas Markets but the structures were starting to pop up everywhere (which was actually kind of annoying). I skipped our next port stops of Melk & Dürnstein, which were undoubtedly charming, mostly due to a minor onboard injury. And then went for the day trip outside of Linz (which was a bummer not to check out more of) to the Czech Ceský Krumlov which was in fact a charming site (photo above) including a nice pop in to the interesting Egon Schiele Art Centrum. And then on to Germany with a stop in Passau for another walking tour covering days of yore including yet another church differentiated by the largest church pipe organ and a lackluster exhibit at the MMK Modern Art Museum was balanced out by a charming lunch stop at Anton coffee house and winebar before wrapping this part of the trip.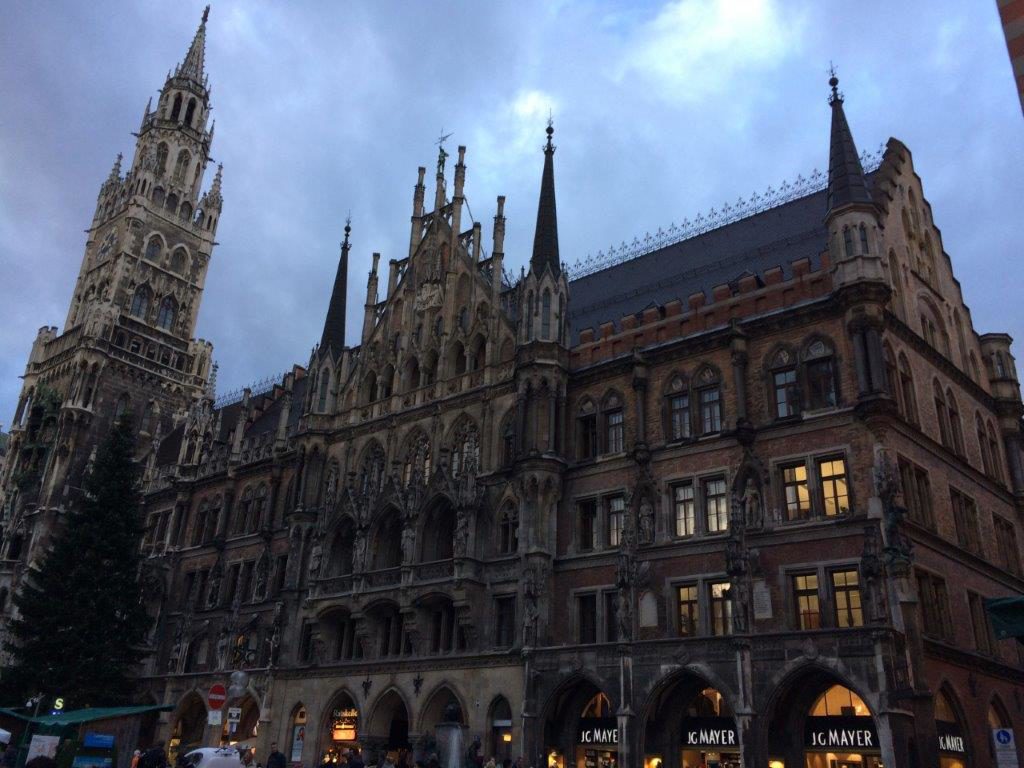 After a decent bus ride an amazing final respite in Munich (here's to a cheap Flixbus that took us from Passau and caught a few of the more architectural highlights on the way in). Our hotel Deutsche Eiche was on an adorable street and as we took off our first evening to see what we could see and turns out we were right by the Viktualienmarkt (market), where it was actually warm enough to pop in to the beer garden with the most giant soft pretzel you've ever seen in close proximity of the amazing St. Peter's Church (photo above). Museum day started with a walk through the impressive but never ending Residenz, then the four part Pinakothek der Moderne, which houses Design, Architecture, Contemporary, and Classical Modernism, followed by a pop over to the slightly too modern Museum Brandhorst. For the Sunday where it turned out most things are closed we went through the large Englischer Garten with a stop off at the Chinese Tower. And lest one worries there is also good food to be found, from a fun Burger & Bier to Italian at L'Osteria Kunstlerhaus to more traditional fare at Wirsthaus in der Au we were more than covered.
A good time was had by all! Where to next?