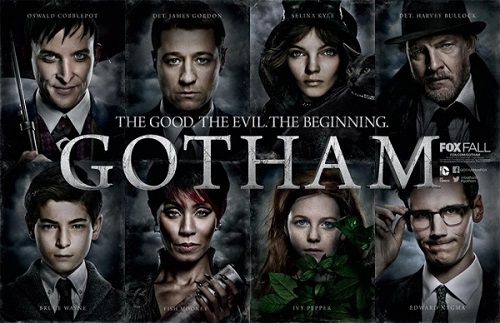 A pretty dismal season for television so far though one or two options still might make the cut. Still waiting for State of Affairs but until then, here's where I'm at:
Monday
8pm – Gotham (Fox)
9pm – Sleepy Hollow (Fox)
10pm – Blacklist (NBC)
The jury is still somewhat out on Gotham but there's enough interesting about it that it's still sticking for now. And returning series remind me that there were better shows last year, Hollow is still bonkers but super fun, Spader still makes it.
Tuesday
8pm – Selfie (ABC)
9pm – SHIELD (ABC) / New Girl/Mindy Project (Fox) / Marry Me/About a Boy (NBC)
Happy to keep some of these comedies around, actors are likable enough for me to keep for now, and Shield has been finding some new rhythms though I oppose a triple booking I am deferring a cut with On Demand.
Wednesday
8pm – The Middle (ABC) / The Mysteries of Laura (NBC)
9pm – The 100 (CW)
Ok, I'm not totally sold on Laura but it's a decent enough filler for now while Middle and 100 are still keeping me in.
Thursday
8pm – Bones (Fox) / Big Bang Theory/Mom (CBS)
10pm – Elementary (CBS) / Parenthood (NBC)
I really am almost done with Bones but it's still a decent procedural and keeping up with the rest of the regulars.
Friday
9pm – Grimm (NBC) / ANTM (CW)
10pm – Constantine (NBC)
After two Constantines I'm not sold but still don't feel like I have a feel for the week to week, it's a good pair with the solid freak of the week on Grimm and yes the models, last year's addition of boys was a welcome one.
Sunday
8pm – Madam Secretary (CBS) / Brooklyn Nine-Nine (Fox)
9pm – The Good Wife (CBS)
Secretary still sort of comes across like the poor man's version of West Wing crossed with Good Wife (which is still fantastic) but even a poor man's version keeps me in so far and Brooklyn still keeps me amused.
And for the cable fodder: Benched (USA), Ink Master (Spike), The League (Fxx), Project Runway (Life), Sons of Anarchy (Fx), Z Nation (Syfy)
What's in your queue?
Update: Selfie is cancelled and Constantine no longer made the cut.