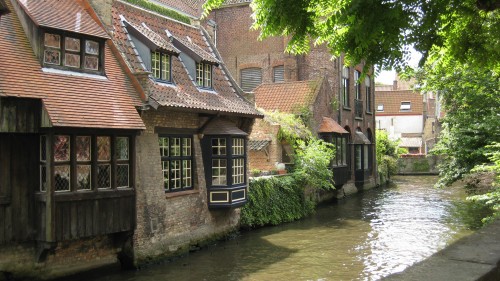 So you've heard about the impetus for some of my trip planning and a week's worth of activity, check out this post if you missed it. But wait there's more! Before and after the cycling I spent some time on our bookend cities, plus while I was there seemed like a good time to dip my toe into something Scandanavian. I'd been to Belgium before but not to Bruges (Brussels only) or the Netherlands or Denmark, fun! I booked flights and hotels ahead of time, SFO to Amsterdam to Copenhagen back to good ol' SFO. Upon arrival to Amsterdam with the help of a nice guy at the train ticket center, two transfers and what felt like a million hours later, the fun could begin.
Upon arrival and a quick taxi ride in Bruges I checked into the lovely Fevery Hotel. The location was good, breakfast included plus jellybeans offered in room, a bit outside of the city center but just a short walk. And the front desk gave some lovely recommendations. Most notable recco was my map marked for a stroll through sites including churches, canals, windmills, and my first Belgian beer of the trip at the oldest pub Café Vlissinghe. In some ways Bruges was my favorite city in that it was the most charming and unlike other cities, though of course that trades off for lack of some of the perks of a big city. As noted it's walk-able, though put on a cushie comfort shoe because it's all cobblestones which it turns out is murder on the foot. I also enjoyed the canal tour, you don't necessarily see anything you wouldn't on foot but the perspective and the historical narrative are a nice way to spend the time. Three days was really enough to feel like I saw things. I picked up one of the museum passes which gave access to the Groeningemuseum as well as a series of other options. And don't miss the climb up 366 stairs for a great view of the city and Belfort itself. Not covered by the pass but totally worth it was a Picasso exhibit which showcased some great pieces of his and some peers. And a stroll through the main market square and the two key shopping blvds Zuidandstraat and Steenstraat didn't leave me empty handed. And yes chocolate, fries, and waffles.
Post cycling and upon arrival to the harbor at Amsterdam we had a nice view of Nemo as well as the Maritime museum, though neither got an inside visit from me. A taxi to drop stuff at the bizarrely 'hip' and modular CitizenM hotel, which was a little too far out of downtown but right on an easy rail line. The main city area is walk-able but it's extensive enough that you don't necessarily want to walk it all every day so a one or three day pass makes on-and-offs the central transpo that much easier. About four full days in Amsterdam can be enough and too little. I had a little museum overload as I tried to take in the biggies Van Gogh, Stedelijk, and Rijksmuseum which were all well worth the visit. Each day post museum it was on to strolls through neighborhoods and parks as well as ordering meals back in restaurants, mmm pastries and apple pie, and another canal tour. Shopping could of course also be found around the neighborhoods and the Nine Streets area again didn't leave me empty handed.
And then on to Copenhagen. Hotel Alexandra was in a great location and I again took off on foot for a walk through shopping areas to the Nyhavn for a beautiful view and a much needed meal and cold bevvie. Available but skipped this time was another canal tour. I will admit that two plus weeks in my energy was maybe starting to wane. But with a new city to stroll, more sites to see, more museums to hit I was mostly up for the challenge. I'd also been restauranting pretty well along the way and with world famous Noma not being an option (booked well in advance) and the prices being more significant than anticipated I still somehow made due. Favorite find was the Torvehallerne, an in/outside market with meals and meal fixings aplenty, and plenty of good restaurants to be found in the Meatpacking District. The shopping surrounding the main strip of Strøget as well as on the main bits of Istedgade continued to offer lots of options for purchase and just plain pretty design views. And of course museums, both the Statens Museum (located in a great park area) and the Designmuseum were worth a look. The highlight though was heading just outside the city for a day at the Louisiana Museum of Modern Art, the landscape, architecture, and art are worth the visit and I could and did spend all day between viewing art inside and out and just looking at the beautiful coast view past amazing sculpture, and of course eating.
For more check out my Pinterest boards for mapped sites for Bruges, Amsterdam, and Copenhagen.