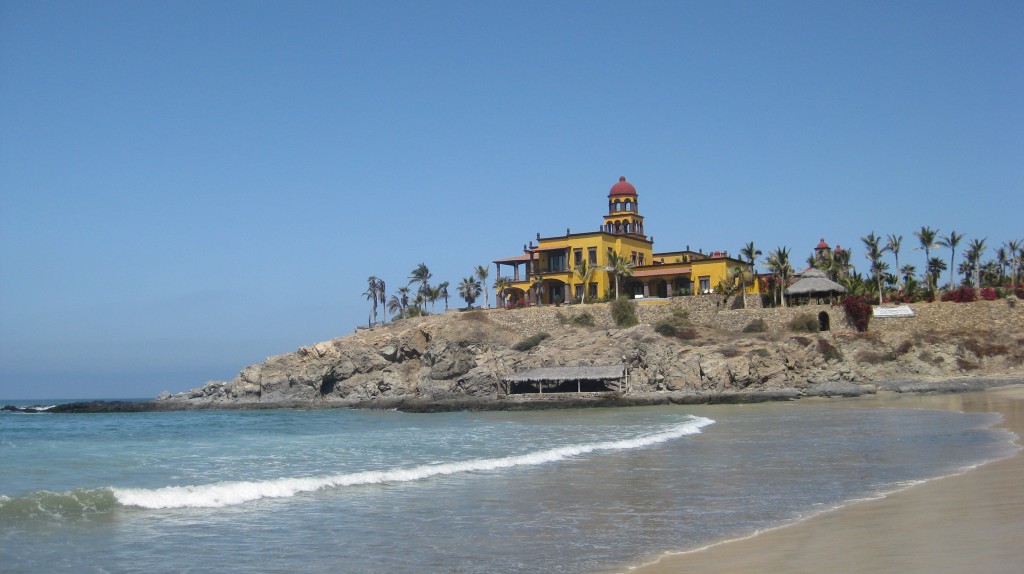 So occasionally even the procrastinator needs to unplug, and what better way than a vacation. A little jaunt down to Mexico was just the ticket and Todos Santos is just a short ride (about 1 1/2 hours) away from the Cabo airport in our lovely Sienna. The sleepy town did just the trick, though it is a sleepy town. There are a couple of times a year that are a bit busier with a film and a music festival, but word is things still shut down at around 9:30. The rumored famous Hotel California could be found open somewhat later but the cheese factor kept us at bay.
The small artsy town with an array of shops, restaurants, hotels, and during the day taco stands (taco stands are apparently not a nighttime affair) is a lovely way to spend a couple days. I did avoid purchasing yet more silver jewelry, pottery, or $300+ leather bags. Turns out the beaches right at Todos Santos and north are lovely but not safe for swimming so mix in a day at slightly south Cerritos Beach Club snacking and drinking and watching the surfers is quite good. The weather was a little unseasonably cold, which didn't hold us back from putting our sunscreen to use, though adding another sweatshirt wouldn't have been a bad idea.
Since things do shut down early the big event of the day was going out to dinner. Night one was a pop by La Copa Bar at the Todos Santos Inn. They were rumored to have the best margaritas so we perched ourselves and along with the margaritas started ordering food, mole, pork, guac… which was all delicious. And the atmosphere was a bit old library which we dug. The next night was a stop at La Casita Tapas and Wine Bar which seemed to be neither, though you could order wine and they had a decent selection of entrees and sushi, I was under the weather so can't report but the food got somewhat mixed reviews (steak special quite good), the vibe was also very enjoyable, a little rustic, good energy.
We then made it to Rancho Pescadero for what could not have been a fresher meal, the chicken and fish and salads were delicious though the risotto was more of a gumbo, I also had a crazy delicious strawberry mojito (I was feeling better!). The space was lovely though the ocean front description was a bit misleading; you had to go upstairs to another non dinner space to see the beach past the plants. We were swayed by folks' descriptions of one of the Italian places in town and tried Tre Galline which was good and a nice space, though the report that it's super authentic and better than those to be found even in San Francisco might be an overstatement. Overall I think we enjoyed the food, though to be honest the prices weren't a total bargain so I think the straightforward Mexican items were our favorites.
The best margaritas were in fact provided by our hotel staff, complimentary on first arrival and available between 5-7 on subsequent evenings. We were amused when a group arrived on a Friday night inquiring as to the sushi and bar evenings that had apparently been concluded a couple of years prior when Mario moved to full time surf school (the margaritas were still his recipe). Apparently the sign was still up…
Margs were one of the many perks of the hotel, a slight jaunt outside of the main town. The Hotelito turned out to be a lovely accommodation. We camped out at a few of the rooms at the bed and breakfast side of things but got a tour of the spacious three bedroom Casita also available. We loved the margaritas, the gas bonfire and honor bar in the communal area for nightcaps, and of course the pool. Being outside of town seemed to offer the most expansive pool area, long enough for laps and with plenty of hammocks, chairs, and chaises with umbrellas for all your lounging needs. And the staff was sweet and proprietor Jenny, a Londoner who designed the place herself was a delight.
Happy to be back in front of my own television and backlogged TiVo but now reinvigorated to plot another escape. Where to?