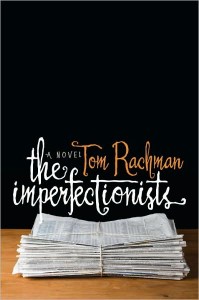 Well my reading seems to have dwindled this past year, not that I have anything else to show for it. And while I think I was less diligent about noting what I read this last year, even worse I can barely remember some of the books. But nonetheless it's the end of the year(ish) and time to make some notations:
The Imperfectionists by Tom Rachman – I really enjoy a multiple POV work and this look from various folks at and English language based paper in Rome does a great job of telling each story and the overarching tale, I thought it was a very good read.
Divisidaro by Michael Ondaatje – Another multi part piece, these three parts almost form a novel and I liked two of the three enough to enjoy the story of a broken family, though being in SF I was a little bummed for a less strong tie to Divisidaro street (don't call it NOPA).
Skippy Dies by Paul Murray – We know he dies in the first handful of pages, which makes the tragedy of this prep-schooler's tragic death more palatable as we go back to tell the story leading up to things with the challenges all around the students, families, and faculty.
You Don't Love Me Yet by Jonathan Lethem – I can always count a good deal of random with Lethem and in this odd little riff centering on a gal touching on experimental installation art and music I was entertained enough on the 'complaint line' becoming hit tunes and the random relationships.
What Should I Do With My Life by Po Bronson – I think I told a friend I wanted this to be more of a self-help book, but Bronson gathers a good range of people's stories and finding their 'purpose' while imparting a bit of his own story and narrative to wrap it all up that I found it intriguing.
The Girl with the Dragon Tattoo/The Girl Who Played with Fire/The Girl Who Kicked the Hornet's Nest by Stieg Larrson – I put these off for some time, for no real reason, but kicked in prior to catching the first US flick and I was surprised by how slightly off the formula these various tales of uncovering corruption and murders and various crimes focused from the investigative journalist's perspective, the character of 'the girl' is always compelling even when she's actually less present.
A Drink Before the War/Darkness Take My Hand by Dennis Lehane – I picked up the start of this old series and was engaged by the Boston detective and his gal pal PI as they get far too involved in far too violent crimes, they hold up to time though I laugh at the use of old technology.
And a few less than stellar notations:
The Marriage Plot by Jeffrey Eugenides – I really dug both The Virgin Suicides and Middlesex but never quite got into this love triangle of post collegiate overly intellectualizing. 
Freedom by Jonathan Franzen – There is a way to make an unappealing character interesting to me and then there are just well described super annoying people, I know enough annoying people in real life.
Riven Rock by T.C. Boyle – My mom had a bunch of TC Boyle in her stacks of books and as my first try… I actually finally gave up on this densely written book about a turn of the century sexually psychotic dude under care.
This year I vow to read more, and I also vow to stop reading books that I don't dig. What are you reading?