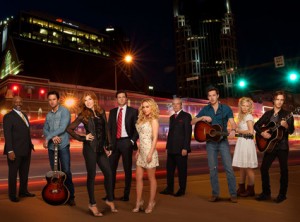 The new shows are starting to hit and the critics are starting to buzz. So without much of an advanced look, here's what I'm looking forward to:
Go On (NBC, 9/11) /The Mindy Project (Fox, 9/25) /The New Normal (NBC, 9/11) – Comedies aplenty, and though they all need a few episodes to see how they find their rhythm I actually enjoyed all the premieres, think of them like the new Community, the new New Girl, and the new Modern Family.
Elementary (CBS, 9/27) – I don't know that this will quite live up to Sherlock which I have recently converted to, but I do like both Jonny Lee Miller and Lucy Liu and just generally like these detective paying attention kinds of shows.
Last Resort (ABC, 9/27) – This could be this year's Lost, not just because I understand there's an island, but because critics are saying good things about the pilot, military sub defies orders, and I am left wondering how they will sustain a whole series, plus I do dig Andre Braugher.
Nashville (ABC, 10/10) – This could be a decent caliber soapy look at country stylin's of the new, Hayden Panettiere, and the old-ish, Connie Britton.
Vegas (CBS, 9/25) – Michael Chiklis and Dennis Quaid in 1960s Vegas baby!
And for the rest of the shows that for one reason or another might be questionable, but might be gems:
666 Park Avenue (ABC, 9/30) – Vanessa Williams and Terry O'Quinn in a beyond creepy NY apartment building, could be intriguing.
Animal Practice (NBC, 9/26) – The preview wasn't the worst show I'd ever seen but…
Arrow (CW, 10/10) – Your latest superhero, fighting crime one arrow at a time.
Beauty and the Beast (CW, 10/11) – Kristin Kreuk unbelievable as NYPD and some hot guy unbelievable as Beast.
Ben & Kate (Fox, 9/25) – There's some potential in this brother/sister hijinks comedy.
Chicago Fire (NBC, 10/10) – Dick Wolf takes on fire fighting.
Emily Owens, M.D. (CW, 10/16) – This just strikes me as like the worst of Meredith Grey.
Guys With Kids (NBC, 9/26) – Yes men have kids and no it's not necessarily funny.
Made in Jersey (CBS, 9/28) – Jersey girl in NYC law firm, any excuse for acrylic nails and a case of the week.
Malibu Country (ABC, 11/2) – I found the old Reba a bit of a guilty pleasure so if this equals that's not the worst thing.
The Mob Doctor (Fox, 9/17) – Indebted to the mob and bringing the medical skillz, how much will she corrupt her morals?
The Neighbors (ABC, 9/29) – I like Jami Gertz but living on a suburban street full of aliens?
Partners (CBS, 9/24) – With Will & Grace as the noted pedigree it's a gay man/straight man buddy comedy.
Revolution (NBC, 9/17) – I am over dystopian tv series but would relish a great one.
What are you looking forward to?

Shows mostly listed in alphabetical order and all premiere dates are of course subject to change. 

procrastinator posted in tv | 2 comments »

You can follow any responses to this entry through the

RSS 2.0 feed. You can skip to the end and leave a response. Pinging is currently not allowed.