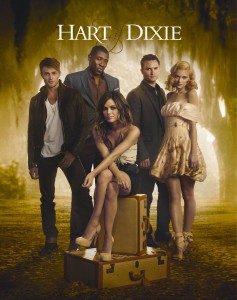 The fall season is starting to trickle in… Until we get the full lay of the land of the new stuff, let's take a look at what I'm looking forward to that's coming back.
Community (NBC, Oct 19) – They're able to do a crazy good job with random theme episodes and ongoing arcs that leverage the characters as well as pop culture.
The Good Wife (CBS, Sept 30) – Still one of my favorite dramas, I am somehow interested in all the aspects of the people, cases, relationships and politics.
Happy Endings (ABC, Oct 23) – This is my fave buddy/relationship comedy as each of these characters have evolved into their own random peeps.
Hart of Dixie (CW, Oct 2) – My new favorite fluffy small town rom-com, I want to see if Summer Zoe is still rocking the shorts at her medical practice.
The Mentalist (CBS, Sept 30) – This procedural has maintained the most of my interest, mostly due to Simon Baker being a likable wackadoodle.
New Girl (Fox, Sept 25) – This show too had some growing pains in the first season but I like that Jess has found a better balance of innocence and reality and the supporting cast has become more well rounded.
Parenthood (NBC, Sept 11) – What will befall the Bravermans this season, they get into some stupid situations but usually treat them with the right amount of humor and heart.
Parks & Recreation (NBC, Sept 20) – I almost wanted this show to end with the council election because it was just so perfect but am thrilled to see the return of these misfit government workers.
Sons of Anarchy (FX, Sept 11) – Every season I wonder how Jax and the crew will get out of their latest fix and am eagerly anticipating their new season of good bad guys.
The Walking Dead (AMC, Oct 14) – I finally caught back up and am ready for a new season of relationships strained to the max as they fight for their survival of the zomb-pocalypse.
Honorable Mentions (On the TiVo): 30 Rock (NBC, Oct 4), The Big Bang Theory (CBS, Sept 27), Bones (Fox, Sept 17), Castle (ABC, Sept 24), Dexter (Show, Sept 30), Don't Trust the Bitch in Apartment 23 (ABC, Oct 23), Grimm (NBC), Hot in Cleveland (TVL, Nov 28), How I Met Your Mother (CBS, Sept 24), It's Always Sunny in Philadelphia (FX, Oct), The League (FX, Oct), The Middle (ABC, Sept 26), Modern Family (ABC, Sept 26), Suburgatory (ABC, Oct 17).
Debatable but may check in: American Horror Story (Fx, Oct), America's Next Top Model (CW, Aug 24), Law & Order: SVU (NBC, Sept 26), The Office (NBC, Sept 20), The Voice (NBC, Sept 10).
Chime in with comments on what you're looking forward to or other questions on returning faves.
Shows listed in alphabetical order and all premiere dates are of course subject to change.