I'm pleased to introduce our inaugural guest post, our first guestinator is our very own reader Leslie Zellers. Send the procrastinator a note if you're interested in adding a "watch this" or other post or having the procrastinator contribute to your site.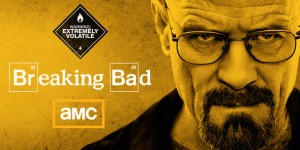 Do you ever find yourself talking out loud to the TV, imploring the characters to make a different choice other than the obviously stupid choice they are about to make? Breaking Bad is one of those shows for me. I actually consider this a sign of good TV, since it means I am invested enough in what they are doing that I want to see it turn out ok for them. Although who are we kidding, things are not going to turn out ok for Walter White of AMC's Breaking Bad.

For those who haven't watched the show, which recently returned for its fifth season, I won't give too much away. Even without watching the show for the first three seasons I knew that Walt – played by Bryan Cranston, who is utterly transformed from his role as dad on Malcolm in the Middle – is a high school chemistry teacher turned meth cook in order to provide for his family in the wake of a lung cancer diagnosis. Ok, that explains his motivations in season 1 but Walt's reasons for continuing in the meth business become more complicated as the show goes on. Or maybe his reasons for continuing are simple – greed, power, and hubris – but it's his life that becomes complicated in the wake of his decision.

Not only does Walt need to worry about getting caught by law enforcement, as anyone in the illegal drug business would, he also has to figure out how to hide his business from his family and navigate the territorial battles of rival drug dealers. All of which introduces us to the rich cast of supporting characters orbiting Walt. Jesse Pinkman (played by Aaron Paul) is Walt's partner in the drug business. As a chronic underachiever in life, Jesse is treated with a mix of contempt and resignation from his former chemistry teacher, whom he refers to. Mr. White for all 5 seasons of the show even though Jesse probably knows Walt better than anyone.

Walt's extremely uptight wife (Anna Gunn) vacillates between fear, hatred, and confusion the more she learns about Walt's secret life. When Walt finally tells his wife where the money to pay for his cancer treatment came from, his distinction that he is a drug manufacturer not a drug dealer does not put Skylar at ease about the safety of her two children. And did I mention that Walt's brother in law is a DEA agent? That would be enough intrigue for most shows, however Breaking Bad delves deeper into questions of morality and right and wrong by introducing us to a bad guy who is often more likable than Walt, the supposed "good guy" of the show. Giancarlo Esposito's portrayal of cool and calculating chicken franchise owner Gus Fring features prominently in seasons 3 and 4 and is not to be missed.

Which brings me to the question of how to watch Breaking Bad. If you are a show novice I strongly recommend you follow the advice that I ignored and watch the show from the beginning. Whether you "binge" on multiple episodes in one sitting as described by Jim Pagels of Slate or watch the show at a leisurely pace is up to you. However I find that each episode requires my full attention — no going to the kitchen for a snack, because each scene serves a purpose.

For those who are already fans of the show, what do you want to see happen in this final season? Do you want Walt to get his comeuppance or would you like a "happy" ending?

Details: Breaking Bad, AMC, Sundays at 10pm (catch S5 with On Demand or from the start with Netflix streaming).

guestinator posted in tv | 2 comments »

You can follow any responses to this entry through the

RSS 2.0 feed. You can skip to the end and leave a response. Pinging is currently not allowed.