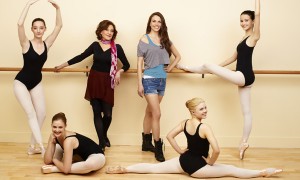 First let me say this is one of the dumbest titles. That said, much like a Cougar Town we must accept and get past it. Even with all of the television that I watch there are certain categories of shows that I'm missing. I like some good dramas, I like some good comedies, I like some good procedural, and then there's Bunheads.

The easiest and most apt recommendation for this show is if you miss Gilmore Girls this show is for you. Creator Amy Sherman-Palladino doesn't stray far from the GG feel and although it's not quite Lorelei and Rory it's got enough of the good ingredients and enough potential that it fills a spot for me that I missed.

Main character Michelle (not Lorelei) played by Broadway star Sutton Foster is a classically trained dancer who ended up as a Vegas showgirl. In a moment of weakness she marries an admirer who sweeps her off to a small beach town, Paradise (not Stars Hollow). And lo and behold his mother is played by Mrs. Gilmore herself Kelly Bishop, but this time as a former dancer she channels the more artsy while still managing to spar delightfully with not Lorelei. The not Rory role is filled by four aspiring ballet dancers, aka bunheads, who each fit a type of girl. This is an ABC Family show after all.

From the quirky small town traditions to the eccentric characters (yes in need of development) to the overly verbose witty banter, so far I dig it. And as noted it's still hitting its stride but I'm interested to see Michelle's fish out of water gal get entrenched with the ballet studio and the main characters while they continue to develop the world they live in. Here's hoping that it lives up to the potential and becomes something so that I actually don't think of it as not GG.

Details: Bunheads, ABC Family, Mondays at 9pm (catch it from the start with On Demand).

procrastinator posted in tv | no comments »

You can follow any responses to this entry through the

RSS 2.0 feed. You can skip to the end and leave a response. Pinging is currently not allowed.