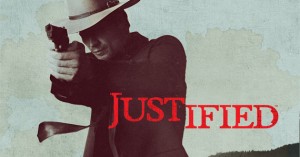 The critics have given their best lists so it's time for mine. As most of you know I don't get top tier cable so some of the HBO and Showtime and other options are waiting for a Netflix showing for me to properly evaluate. And as with all of my top ten lists there could be a good degree of variability particularly on order but also on inclusion depending on the way the wind blows… but here's where I ended up today:
Justified (Fx) – Last season's plot line did a great job of not only showcasing why we love US Marshall Raylan but the complexities of the good and not so good guys in rural Kentucky.
The Good Wife (CBS) – I'm still impressed with the well rounded stories and characters and the politics that go into everything they do, be it the weekly court case, the running of the law firm, the family drama and of course the politics.
Parks and Recreation (NBC) – This series started off a little rough not quite knowing what to do with their Office spinoff-ish format, but the show has really found its footing week after week with small town office politics and the characters involved.
Sons of Anarchy (FX) – Have recently been wondering how many club members could die a season and still keep going, but this show makes me mostly suspend belief as I am caught up in all the tensions wondering how they will ever make it through the next jam.
Bones (Fox) – So far I still enjoy the chemistry and character between/of the two leads as their relationship progresses on this sciency procedural with a supporting cast of folks that add good stuff to each week.
The Glee Project (Oxy) – This new angle on talent competition, looking for someone who would fit into a specific show focusing on slightly underdog characters, coached and judged by the cast, staff, and creators gives a great look at both the talent and what goes into getting it all together.
Men of a Certain Age (TNT) – Ray Romano, Scott Bakula and Andre Braugher each embodied a wonderfully nuanced character dealing with the dramas of life, I enjoyed what was unfortunately the final season.
Parenthood (NBC) – Ah the silly Bravermans keep making missteps but they seem to mostly balance family drama ridiculousness with some touching and truthful moments from each of the generations.
Cougar Town (ABC)/Community (NBC) – These two comedies were more uneven than some but still consistently gave me the most laughs and enjoyment, both took a little while to find their footing but they each were able to find the funny in their off beat characters and situations.
And of course lots of  stuff almost made the list, my TiVo is certainly full! What are your picks?