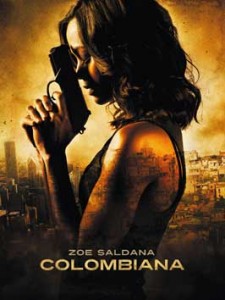 Well we're heading from a feast season into famine, and what better way to close out a wave of movies than with some good action fun. Zoe Saldana is out for revenge and is willing to do whatever it takes. The movie actually spends a good deal of time setting up young Zoe who, seeing her parents killed as a ten year old, starts with an awesome chase scene of her own. Saldana takes over and we're happy to watch her, not only because she's totally hot, but because she plots out some intricate as well as brutal attacks. Now this clearly isn't a fine film, a couple points I think may have been cheesier than intended, but I was delighted with my choice nonetheless.
As a side note I completely spaced that I also saw The Help last week. A lovely cast takes on the story of a woman trying to tell the story of the unheard women who care for the white families. A pretty good movie, but what often elevates in the combination of drama, comedy, and some poignant moments ended up feeling a bit uneven.
Notable dvd releases 8/30:
In A Better World – This Danish film garnered Oscar and Golden Globe so is perhaps worth a look, putting in the queue.

Prom – Some teen thing that didn't even hit my radar, pass.
Tyler Perry's Medea's Big Happy Family – I assume if you watch these this is along those lines, pass.
90210 (S3) – I tried out of loyalty to the original but couldn't get on board, pass.
Cougar Town (S2) – This show has actually hit a funny stride, can't wait for fall.
Desperate Housewives (S7) – I can't seem to stick with these soapy shows for more than a season or two, pass.
Hell's Kitchen (S5) – I don't like the yeller, pass.
House (S7) – Another season of diagnosis, I am begrudgingly still watching.
Parenthood (S2) – This show also grew on me, enjoying the family drama.
Running Wilde (S1) – Almost a good show if you like the quirky sort.
Sons of Anarchy (S3) – If you're not watching this show, get started now, a favorite.