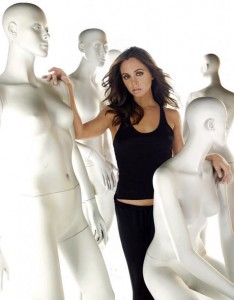 Friday night was one of the better episodes that we've seen of Dollhouse. I'm most intrigued when they explore issues of morality and identity. And I have to say eps with Sierra and Victor interest me more than completely Echo-centric ones. And I am always glad not to see Mellie, though sadly I think we haven't seen the last of her.
Unfortunately ratings were at their lowest to date. The show will be pulled for November sweeps but they've announced the schedule for back to back episodes to air in December (2 per night!). They've announced at least through ep 10 but we're we'll have to stay tuned to see when the final 3 will follow. Fortunately, although getting the back 9 and certainly renewal look dubious, Fox has agreed to air all of the originally contracted 13 episodes. And since Joss knows the storm is coming he can hopefully leave fans with a tiny bit of satisfaction for what will undoubtedly be the final ep.
So what went wrong? The show seemed to get off to a slow start last year and it wasn't until the second half of the season that it really felt like it hit its stride. First off of course is the unusual premise of an organization that hires out reprogrammable humans (who agree to give up their personal identities for 5 years), which certainly covers the standard prostitution angle but also tries to dabble in all specializations. Unfortunately this isn't the sort of show that seems to attract new viewers along the way and the standalone episodes (Echo's problem assignment of the week) tended to be the least interesting. There's also the problem that Dushku perhaps wasn't quite up for the complete absorption into the different characters, but she's grown on me a little.
The organization itself is interesting, (though one wonders if the security is slipping with all the issues they have) but  character development is a little tough when half of your characters are blank slates (between assignments they are 'wiped'). They have been able to balance that with some actual development as well as enough back story to keep things going. And not all the characters are 'actives', and although there's a bit of a power struggle for blah between Boyd and Ballard these days (Echo/Dushku's current and former handler), fortunately Topher and DeWitt have stepped up as did Dr Saunders who sadly is off shooting something else somewhere.
So what else is there to do but put it on season pass and enjoy it while it lasts. And as an extra bonus when it comes back in our next two episodes we'll get a special appearance by Summer Glau (of Firefly and Terminator fame!). Grrr. Argghh.