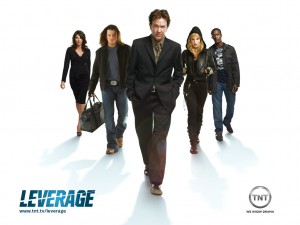 So we're not quite ready for Fall season, I think we're calling anything through August as 'Summer'. We have had a few summer shows that have started, and now that we've had a chance to take a gander, what did we like (excluding reality for the sake of brevity)?
Burn Notice (USA, Returning) – The cheesy start won me over as I grew to enjoy the weekly capers, the MacGyver-esque tech, and the growing characters.

The Closer

(TNT, Returning) – I like Kyra as this driven head of a special detective squad questioning suspects into submission.

Drop Dead Diva

(Life, Premiere) – This ridiculous plot of a tiny model woman dropped into the body of a not tiny lawyer woman is somehow sweet in that Legally Blonde sort of way.

Eureka

(SyFy, Returning) – This town of science geniuses turn out problems that apparently the only nongenius member of the town can solve as the town sheriff holds them all together.

Greek

(ABCFam, Returning) – The light and silly tone paired with surprisingly complex characters and situations almost makes me miss college.

InPlain Sight

(USA, Returning) – Appealing enough as the lead is as abrasive as she is caring as she tries to help her witness protection participants and her nutso family.

L&O: Criminal Intent

(USA, Returning) – Goldblum adds a nice mix to the remaining partners as we see the criminals and the detectives.

Leverage

(TNT, Returning) – I just love a good caper show, and although this isn't the best, it's pretty entertaining with the mix of experts taking down the bad guys.

Monk

(USA, Returning) – The cases aren't masterful but the quirky detective and his posse are amusing as the show reaches its final season.

Saving Grace

(TNT, Returning) – Grace still has a great mix of thoughtful and just plain crazy drama and detective work.
Show that I've tried but just didn't have that thing that pushed them onto the Tivo queue:
The Cleaner (A&E, Returning), Dark Blue (TNT, Premiere), Defying Gravity (ABC, Premiere), The Goode Family (ABC, Premiere), HawthoRNe (TNT, Premiere), Hung (HBO, Series Premiere), The Listener (NBC, Premiere), Make it or Break It (ABCFam, Premiere),  Mental (Fox, Premiere), Mental (Fox, Premiere), Merlin (NBC, Premiere), Michael & Michael Have Issues (Com, Premiere), The Philanthropist (NBC, Premiere), Raising the Bar (TNT, Returning), Royal Pains (USA, Premiere), Ruby & the Rockits (ABCFam, Premiere), Secret Life of the American Teenager (ABCFam, Returning), 10 Things I Hate About You (ABCFam, Premiere), Warehouse 13 (Syfy, Premiere)
And maybe I'll catch these cable shows on Netflix:
Being Human (BBC, Premiere), Entourage (HBO, Returning), Mad Men (AMC, Returning), Nurse Jackie (Show, Premiere), Psych (USA, Returning), Rescue Me (Fx, Returning), Skins (BBC, Returning), Torchwood (BBC, Returning), True Blood (HBO, Returning), Weeds (Show, Returning)