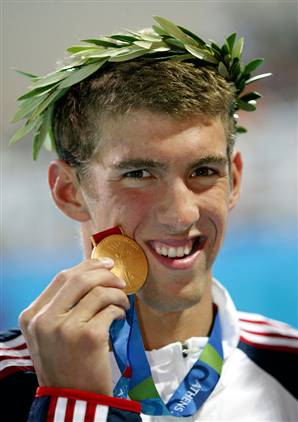 So Michael Phelps as the host of SNL's premiere episode? This is just one of his many appearances cashing in on his Olympic buzz. Where will he turn up next? Too bad the teen shows Secret Life of the American Teenager and Gossip Girl have snatched up gymnastic stars Shawn Johnson and Nastia Liukin in cameos. In addition to the talk show circuit, presenting at the VMAs, and this hosting opportunity Phelps will follow the cameo route on Entourage.
I have to admit I was totally into his path to his eight gold medals, the moment they came back in the freestyle relay was maybe the best of the whole games. Plus I always thought he was sweet enough but even in his endorsement commercials where he has to speak he's stiff. I was pleased to say that he didn't totally embarrass himself on the show, but he was never once funny. I should blame that more on the unfunny skits than the cue card reading Phelps.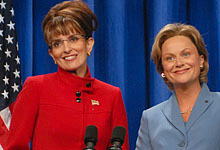 Fortunately the evening at least had a fun opening sketch with Tina Fey returning to play Sarah Palin alongside Amy Poehler picking back up Clinton. Though Obama canceled his expected appearance due to the Texas Hurricane, politics expects to be their bread and butter throughout the season. They're even added some Thursday specials leading up to the elections (though maybe that means less politics on Saturday). Until then let's keep our athletes where they belong, on Dancing with the Stars.