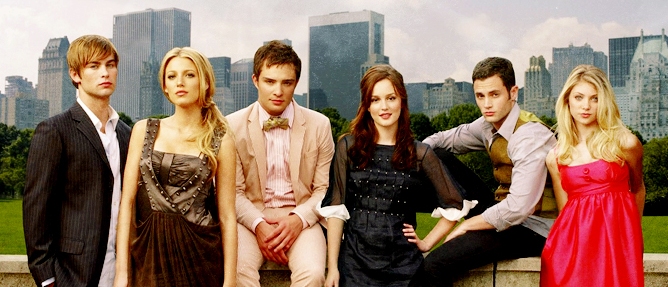 So we see the start of the fall season tonight with the premiere of Gossip Girl. I started by mocking how cheesy this show was but came to relish in it. Teen soaps are faster today than they were when 90210 first hit the scene and the audience has become more sophisticated. Each new show seems to need to up the ante in some way. GGirl is based on a popular series of books and seems to combine the flash of the NY ultra privileged as well as the use of the digital age. Our unidentified narrator (wonderful Kristin Bell) is a blogger who tells all, with the help of people who send her reports and images of gossip in all its glory.
Serena is the reformed bad girl who finds the good guy Dan, but can't keep him. Dan is the scholarship boy who doesn't fit in with the snobs and doesn't want to. Blair is the snobbiest of snobs playing the ever so good girl who can manipulate better than the rest. Nate was her true love who slept with Serena, and after the break Blair fell for bad boy Chuck (in his ridiculous bow ties). And of course we have Dan's sister and wannabe social climber Jenny. And for a touch of the 'old' our true love couple Dan and Serena's parents were once young lovers who are crossing paths again, through mostly not with each other.
Apparently we start the season off in the Hamptons, what will the kids be up to? Last we saw, Dan was breaking up with Serena because he couldn't stand the lies. Blair was stood up by Chuck, who couldn't go through with being a one gal guy. Nate was dealing with dad running out on his drug and embezzlement charges. Jenny was starting her devil wears prada internship, while her dad was hitting the road to tour with his band. And Serena's mom was probably on her honeymoon with Chuck's dad.
The challenge with this show, and those like it, is that the majority of the action is romance, or at least sex. And of course there's at least one bad guy, who we start out hating but then we realize they have a heart of gold. And then once they reform, what are we to do, recruit new bad blood? But sadly we can never stand folks brought in for just that purpose. So once we've run through the coupling and the drama of the first season it all feels a little forced. Here's hoping these kids can keep it fresh. If not there's always the new 90210 which might be good for at least a season.