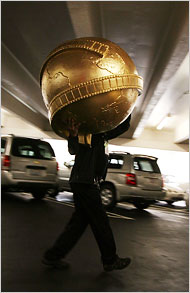 So I didn't watch the Golden Globe 'announcement' show last night because my cable went out. I did read today that the NBC version where the announcements were slightly delayed, as hosts tried to make it all entertainment, was painful to watch, whilst E! and TV Guide were able to just show the straight up announcements made by folks such as Dayna Devon of Extra and Mary Hart of Entertainment Tonight. Not much to see. The main selects for Motion Picture were Atonement (Drama), Sweeny Todd (Musical or Comedy), and The Diving Bell and The Butterfly (Foreign Language). And for Television Series we got Mad Men (Drama) and Extras (Musical or Comedy). For the full list of nominees and winners you can check out the official site at: http://www.goldenglobes.org/nominations/
The fact that my cable stopped me from watching isn't entirely true, my cable did go out, but I was debating whether to Tivo the show anyhow. I mean we all knew it wouldn't be worth watching and I don't particularly care who wins at this. For some reason I never care about awards for television, maybe because I already know what I like and it won't effect what I watch. Or maybe I think there are generally too many great underrated shows and actors who don't get appreciated, and too many cable shows that I don't watch who do, for me to really generate enthusiasm for winners or disdain for those not honored.
And for films I have to say I generally structure the couple months of my movie watching leading up to the Academy Awards around the nominees and have been in an Oscar pool since I can remember. But the Globes aren't particularly noteworthy for predicting the winners and I find division on film nominations between Drama and Musical or Comedy typically make for an odd pool of nominees particularly for the Musical or Comedy category.
As a side note about my cable, I know this is typical but I went to sleep Friday night with cable working, and I turned on my television Saturday and it wasn't. I called my service provider and I got a guy trying to walk me through some 'trouble shooting' before sending a guy out. But my television and tivo and vcr and dvd are all wired together in a somewhat complicated manner that checking each connection through my entertainment unit is a huge pain. And I wasn't expecting to touch any of that until I got my new flat screen tv. So unless someone unplugged something or a rabbit chewed through a wire (someone in my office had this happen, but he has a rabbit) I think it's a problem with the cable. We'll see sometime between 3 and 5:00 today.
As for strike news we'll see if things get resolved before the Academy Awards, or if they can reach a sort of a la carter negotiation like Letterman with his shows, but it promises for a rough season in too many ways. Also of note the Directors Guild of America and the Alliance of Television and Motion Pictures Producers met yesterday to try to hash out their contract which could either indicate what sort of deal the writers could get (or could have gotten), or of course worst case scenario lead to another strike. Fingers always crossed we can wrap up this mess with equitable agreements for all.
Oh and I loved this J. Emilio Flores for New York Times photo of the unused Globe props being carried away.