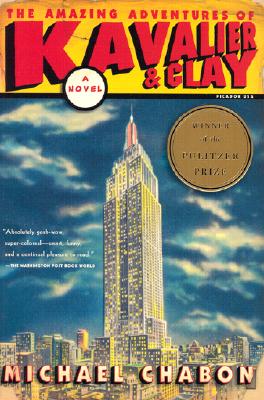 So I do a good amount of reading but I don't think I can ever come up with ten really good books that I've read in a year, and I never read anything that's actually put out in that year. And since this year for various reasons I read less than I usually do I thought I might just look back and recommend ten good books that I'd read throughout the years (though I do recommend On Beauty by Zadie Smith that I actually read this year).
Whilst reviewing my bookshelves what stood out aren't just a few books, but a few authors that have consistently entertained me. Maybe next year I can come up with at least a top 5 books list, until then, here goes… Oh and of course I do have to caveat the fact that these may not be the best or even my favorite, depending on the day I make my list, but they're all worth a read.
Michael Chabon – One of my favorite authors I'd really read almost anything by him, starting with the fun Mysteries in Pittsburg, enjoying Wonderboys, and adoring the epic The Amazing Adventures of Cavalier and Clay. I also recommend his short story collections, though I wasn't in love with The Final Solution, I even broke down and read his young adult book Summerland (I think I may leave the young adult books to young adults). I have yet to read Yiddish Policeman's Union or Gentlemen of the Road, but those did both come out in 2007.
Douglas Coupland – Started reading with super timely mid 90s Microserfs, and kept going, though sometimes uneven I've enjoyed the topical and witty books throughout the years, including among others Generation X, Eleanor Rigby, and JPod, though I have of course yet to read 2007's The Gum Thief.
Jeffrey Eugenides – Well Oprah brought Middlesex back into the forefront and rightfully so, though not a typical Oprah book, it's a beautifully written epic that spanned continents and generations as we met our transgendered Cal/Callie, this novel followed the earlier smaller scope Virigin Suicides that I somewhat recently reread and was again impressed with the craft of the peculiar story.
Nick Hornby – My favorite might still be the first, High Fidelity, where the list making record store clerk revisits his failed relationships but I am entertained by most including About a Boy and more recent Long Way Down. The only area I'm personally not engaged with is his football writing, but clearly it's a passion, I have yet to get to the latest Slam.
John Irving – Well if you haven't read the archives there's a lot of backlog to go to, in fact I've missed a few of the earlier and later works but my list wouldn't feel complete without noting the guy who wrote gems like A Prayer for Owen Meany, World According to Garp, and Hotel New Hampshire.
Jonathan Lethem – I was first turned onto him when I was recommended Motherless Brooklyn, a slightly irregular detective story where the detective has tourette's, and was won over when I followed that up with The Fortress of Solitude, there are a good amount of earlier books, some pretty genre specific that I have yet to go back and sample.
Jay McInerny – McInerny reminds me a bit of Coupland in that I read a few books that seemed fun and noteworthy for the time like Bright lights big city and The Story of My Life, and am delighted to find that I enjoyed the later works like The Good Life.
Richard Russo – I started with Empire Falls which is an all time favorite and as I go back and read the earlier works, though maybe none meet my love of the first, I am consistently entertained by the amusing and touching way that the author treats his small-town cast in books like Mohawk and Straight Man.
David Sedaris – His amusing essays that you may have read or heard on NPR almost always make me laugh, whether it's holiday stories from Holidays on Ice or family hijincks in Dress Your Family in Corduroy and Denim among others, he brings self-deprecating tales to new heights.
Donna Tartt – Secret History sat on my shelf for ages before I finally started it and couldn't put it down, after about ten years she put out another good one, the different but still incredibly engaging The Little Friend, I'm just waiting to see what comes next.
Two honorary mentions for authors who are consistently pretty good but have one book that I just loved: Barbara Kingsolver wrote the amazing Poisonwood Bible about a man who brings his wife and four daughters on his trip to be a missionary in Africa and Gregory Maguire impressed me with Wicked: The Life and Times of the Wicked Witch of the West which managed to not only create an amazing backstory to the Wizard of Oz but discusses very real complex issues through the fantastical setting.