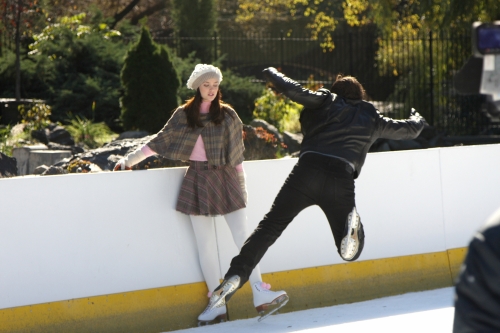 Well the debutantes are coming to Gossip Girl, or coming out as the case may be… And the Grand Dame Grandma Vanderwoodsen came to town for the occasion. As she threw insinuations of an impending death in order to get Serena to the event, she was throwing barbs at the new beau Dan. Blair of course was in her element but who was her escort of choice? Some prince was thrown aside as Boring B realized what he was missing. Blair had suddenly became more appealing, aka happy, as she'd been hooking up with Chuck. But Chuck is happy playing second fiddle to no man. He gets Boring B to embarrass himself and Blair with some fisticuffs at the ball, have to say we're repeating some OC themes, but you can't go wrong with a classic.
And who won out between the mama Humphhrey's art opening and the young Humphreys desire to attend the gala. Little Humphrey finagled an invite to volunteer but the Humphrey folks were having none of it. So of course she snuck out and got the 'I'm disappointed in you speech.' And as for our boy Dan, when Grand Dame tried to convince him that he'd be nothing but an uncouth memory to Serena he decided to go to the ball himself. But when Dan confessed Grand Dame's attempt to buy him out of the event by buying out Dad's gallery showing of Mom's work the truth didn't ring true with Serena and she sent him packing.
Of course the truth cycle seems to be a quick one in this version of New York. Serena found out it was Grand Dame doing the manipulations and mom stepped in and helped bring Serena and Dan back together. And Blair quickly learned that Chuck was behind the jealous fight manipulations and she finally gave her virginity to Boring B. Well not so much her virginity, since Chuck wasn't giving that back. So slighted Chuck took off to dad's island or somewhere, and turns out Boring B took off to visit as well. Now Blair's left waiting for the truth to come out and ruin her reunion. I should remind those who might have forgotten we first met Chuck trying to force himself on Little Humphrey so his bad boy ways aren't all sass.
But that wasn't the only thing Blair was left to worry about. Daddy was coming to town for Christmas, but little did she know he was bringing the man he ran off to France with. And as Blair kept trying to separate Dad for a little quality time Frenchie hooked Blair's mom up with some financier they met at the ice skating rink. Before Blair caused him to crash and go to the hospital of course. But Dad made up with Blair, and though he won't be moving back to NYC any time soon, Blair does have a room waiting for her on the new French vineyard.
Did all Christmases work out so well? Serena and Dan ended up trading very sweet gifts under their $50 budget and managed to throw in a little doing it for free. This was all in an attempt to outdo Dan's former flame. She gave the best present ever, submitting his story to the New Yorker Top 20 Under 20, and having it accepted (ok I have to pause here to remind myself that this is a fictional show and they can say anything they want and remind myself that I didn't even submit a story to the New Yorker so it's not like I'm being one upped by a bad television show's leading man).
But alas all can't end cheery now can it. The Humphrey's are giving up the reunion tour and Mama Humphrey's going back to wherever she was. Maybe she realized she was too young to have actually given birth to Dan, what is he 20 and she's like 32? But I am mixing up fact with fiction again. So when Papa Humphrey left the chocolate chip pancakes behind so mom could say so long to the kids, whose doorstep did he end up on? Well Mrs. Van of course. But she was too busy getting proposed to by Chuck's dad whilst Serena and brother Van sat with mouths a gaping. We have two eps left to find even more drama but unfortuantely you'll have to entertain yourself some other way until the New Year.